Visit my website @ http://shirleylye12.wix.com/princessmic
Sharing is always a joy for many, can you imagine when you share, you also get to enjoy the "perks" that comes with it at the same time? Well, let me introduce you to our Singapore First Mobile Affiliate Application ~ ShareKool!

I am very honoured to be one of the invited guest to their Pre launch event and on the same day itself, i registered myself as one of their users! So what is ShareKool
So what is Sharekool?
Sharekool is the latest mobile application that promotes and encourage sharing within people. It serves as a platform for you to post / advertise anything that you would like to share. for example: your talent skills to earn extra income or unwanted things that you wish to rent it out / share with others
In short, ShareKool is a
1. platform that promotes sharing
2. platform that acts as a online market place for promoting services offered, items for sale / rent
3. platform that helps to conserve physical & monetary resources
4. platform that promotes saving Gaia ~ reduce wastage -> less rubbish -> less harm to mother earth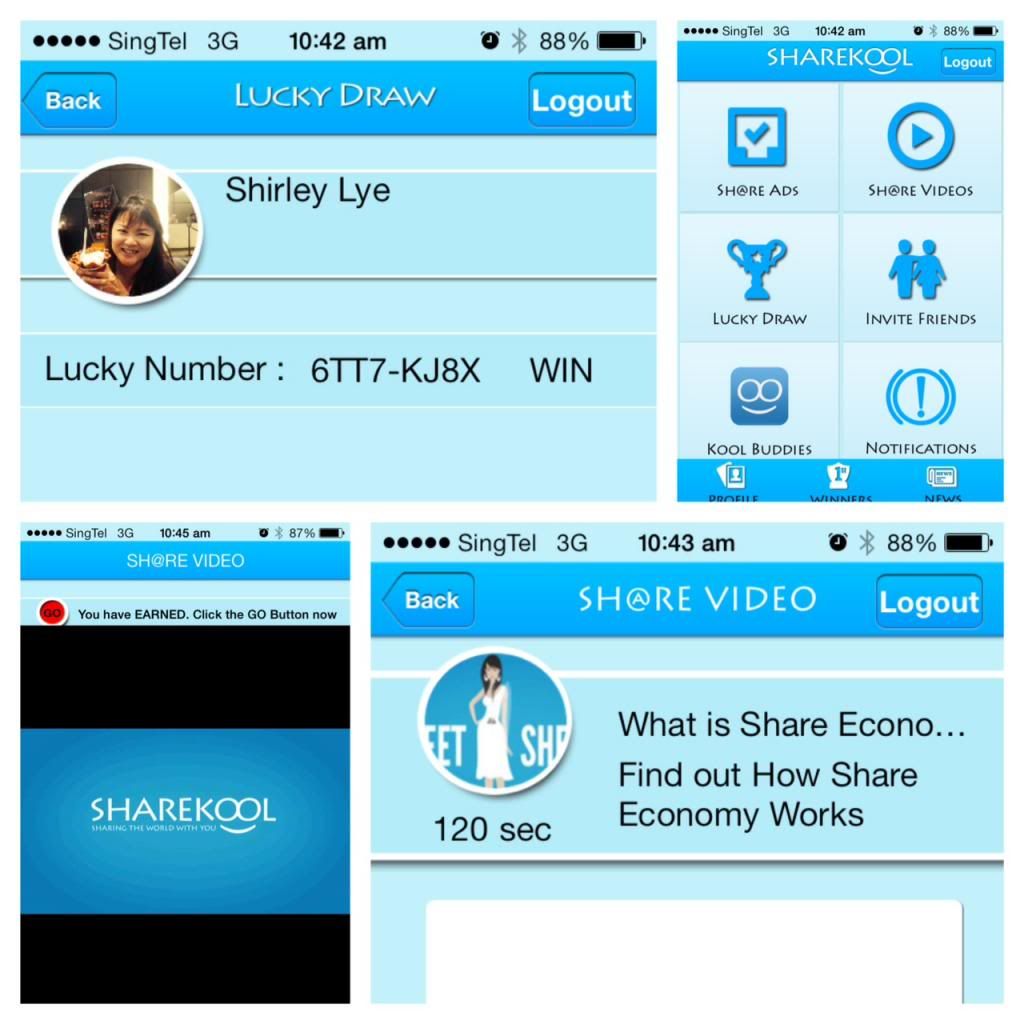 sounds cool right? So where to get ShareKool??
ShareKool is available online for download @ http://www.sharekool.com. just simply go to their website, register your id and start sharing now!
to spice things up, they are also offering ipad minis for lucky winners in their lucky draws!
Sharekool is also available for ipad / iphones / andriod users!
so download the software now and start sharing! Good Luck!
With every 5 sign-ups, you will double your chances of winning an iPad mini. And with every 20 sign-ups, you'll earn $10 in CapitaMalls voucher instantly!
Lucky Draw Terms & Conditions:
By Taking part in this lucky draw, all person participating herein ("The Participants) agree and voluntarily to be bounded by these Lucky Draw Terms and Conditions.
This lucky draw is organized by Egalite Marketing Pte Ltd and is open to all 18 yrs old and above Singaporean Citizen and Permanent residents. Staffs of Egalite Marketing Pte Ltd and their immediate families, advertising agencies are not eligible for the redemption.

The Promotion is only valid from 0000hrs 12th Oct 2013 to 2359hrs 29th Dec 2013.

All registration must be done before 2359hrs 29th Dec 2013.

Only successful registration with valid local mobile contact will be qualified for the draw.

After acceptance of Login name and password, download our apps from iTunes or Play Store, Login in and receive a unique lucky draw number.

Weekly Draw will be held at 33 Ubi Avenue 3, Vertex Block A #07-26 Singapore 408868 on 21/10, 28/10,4/11, 11/11, 18/11, 2/12, 9/12, 16/12, 23/12, 30/12

All lucky draw number will be valid until last weekly draw on 30/12/2013.

Result of draw will be release on our website and on participant mobile app. On every Thursday.

Winners will also be informed through our apps notifications. Details of collection will be on our website, www.sharekool.com

All Prizes are not transferable, exchangeable for cash. Prize not claim by 1st Mar 2014 will be donated to charity.

Egalite Marketing Pte Ltd's decision on all matters relating to this lucky draw will be final, binding and conclusive on all person participating in this Lucky Draw and no correspondence will be entertained.

Egalite Marketing Pte Ltd reserve the right to vary or modify these Terms and conditions, or disqualify any participant or winner, in such manner as Egalite Marketing Pte Ltd deem for, without giving notice or reason and without any liability to such participant or winner

By taking part in this draw, you understand and accept without condition that Egalite Marketing Pte Ltd may elect to use your personal information contained herein for internal and /or external marketing purpose in a manner it deem fit, whilst according your privacy and confidentiality to the highest priority.