Visit my website @ http://shirleylye12.wix.com/princessmic
Face it! Hair problems? Most of us are facing it! Here is mine.
1. Split ends -> Dye hair + rebond + straightening / curling = Well done, I m murdering my hair all the time
2. Greasy scalp -> No matter what shampoo i use, my hair will turn greasy after i wash my hair still.
3. Dandruff -> Something i always cant runaway if i dye my hair or any chemical stuff that is put onto my hair
4. Hair loss -> Thank you very much, i know my forehead hair is thinning...but still not so obvious la
Ok. the only consolation is that i am not alone. Research done by TrichoKare shows that hair problems starts as early as age 30 (goosh .its referring to me)
Study conducted with 100 existing TrichoKare customers
• 40% people experience hair loss as early as age 30*
• 25% men begin balding at age 30
• 90% female have significant thinning hair
So it is very important to stop hair loss before it is too late!
I am very honoured to be invited to TrichoKare's exclusive blogger event to experience their therapeutic scalp treatment at their newly open outlet @orchardgateway!
Their newly renovated outlet is designed to give their customers a whole new experience with high quality service.
Their premium room comes with OSIM massage chair so that their customers can enjoy leg massage while doing their treatment.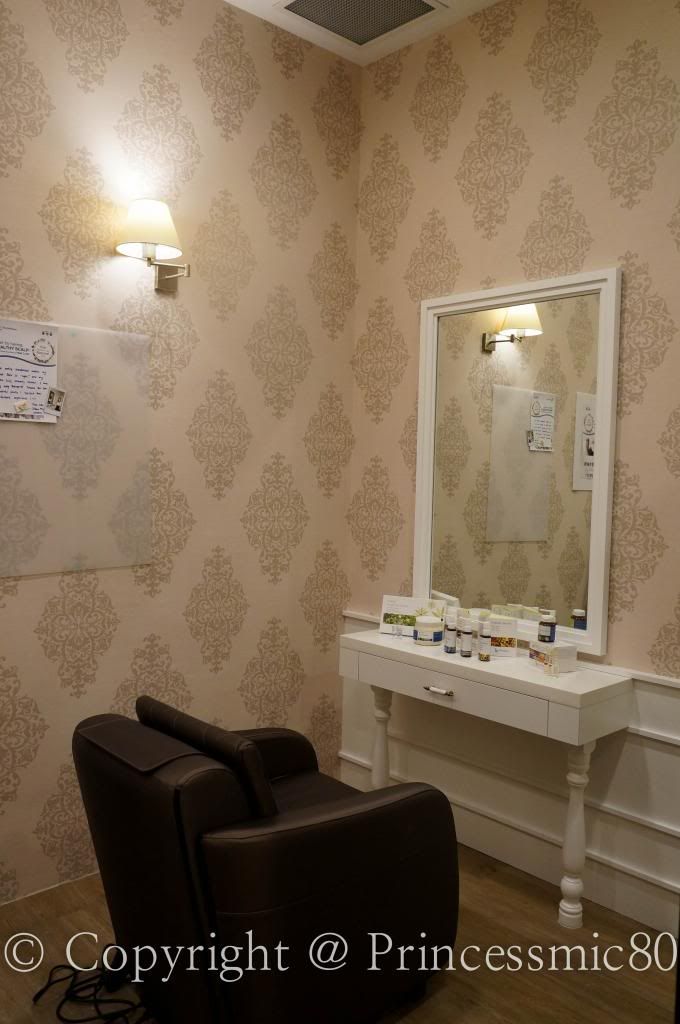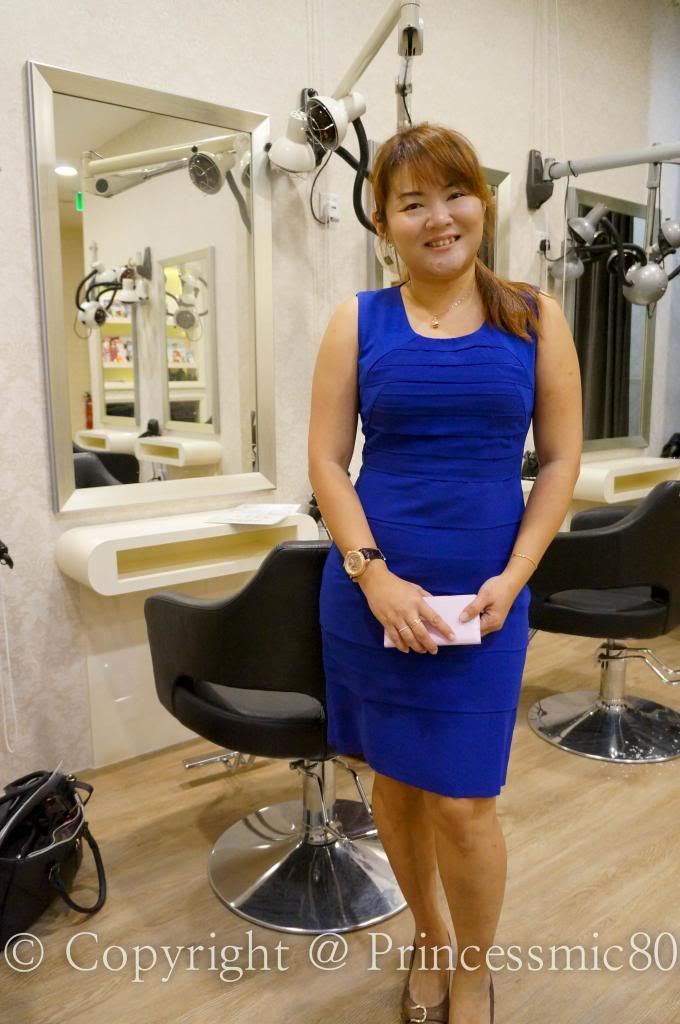 Interested to know how your current hair conditions is? At TrichoKare, there are Trichologists and hair specialists who are trained by the Trichologist to help people like us (especially me) who have problems with their hair or scalp. They would go through with each client and examine the scalp thoroughly to assess the problem and its cause. This is me going through the examination.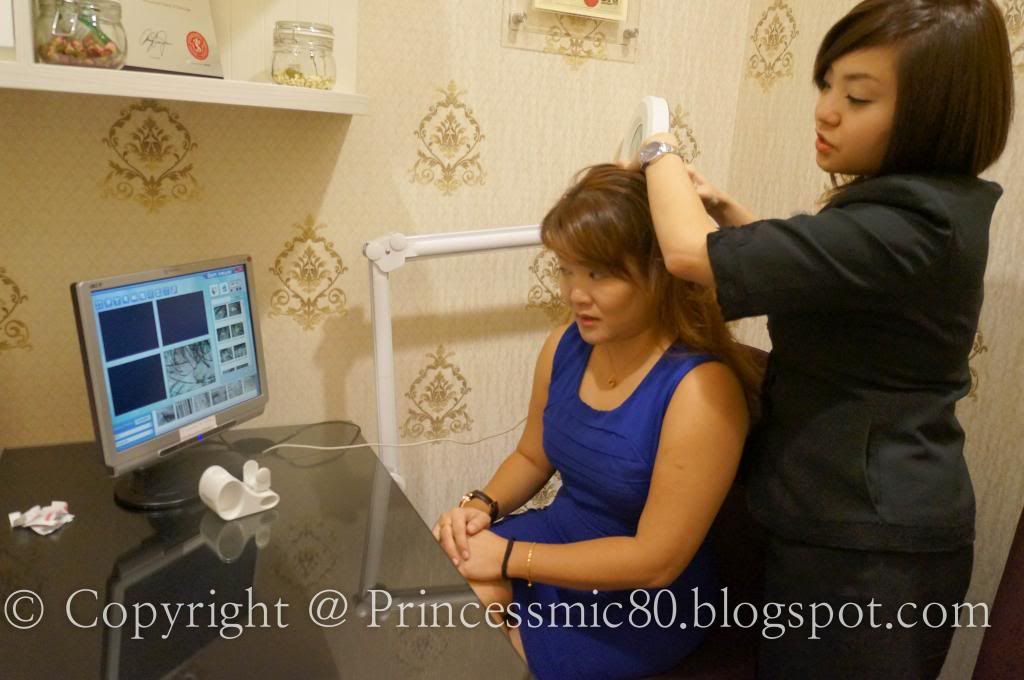 Note : Hair specialists are trained to produce a microscopic or hair shaft analysis. so dont worry, you will be in safe hands. They are super professional and very patient with you when you have numerous questions on your analysis results. Oh, did i mention that they are very experienced and will identify the root cause of your problem when they see your scalp. For me, they say that my scalp is greasy but i do occasionally go for hair treatment which is very very true...
Results : Here's my greasy scalp! Fresh oil emitting from the follicles can be seen. EEkkkss....super gross. Can also see that my scalp is "wounded" (red patches) due to constantly dying of hair ( ok. i should probably stop chemical stuff on my hair already. meaning no more brown and straight hair)..boo boo.
So after analysis, I had a customized therapeutic scalp treatment to help restore my greasy scalp and hair.

Now, let me share what so special about their hair treatment! Cos it is extracted from NATURAL European herbs!!! What's better than using herbs to treat all your hair problems? Personally i trust natural herbs more than anything else, especially i have experience the "magic" that natural herbs can bring previously. Besides, NATURAL Herbs treats the root cause of the problems rather than "pacifying" or "action" on whatever hair problem symptoms you are facing it now. No more chemical or artificial and kiss them goodbyes!
Trichokare Treatments are devised from a broad array of natural
European
plant extracts meant to stimulate hair follicles and prevent hair problems from returning. Active ingredients include Leopard's Bane, Nettle, Rosemary and more! These European herbal infusions have scalp cleansing and detoxifying properties used over the centuries to optimize the health of scalp skin. So
delicate
they are suitable for both adults and children.
Take for instance, the virtues of 'Rosemary' are extolled by ancient Greek, Roman, Arab and European herbalists. The leaves are recognized for its anti-inflammatory properties to support immune and circulatory system to fight hair problems.
TrichoKare treatments are customized to fit individual hair and scalp condition.
TrichoKare's European herbal hair remedy promises to:
·
Promote scalp metabolism by improving blood circulation on the scalp
·
Strengthen hair follicles by cleansing clogged pores
·
Control sebum level within the scalp by balancing pH level
Using a unique technique that is exclusively available in Singapore, the treatment helps to improving blood circulation system at the scalp area, increasing oxygen flow to the hair follicles.
Formulated to suit even the most sensitive skin type, debris such as dandruff are gently removed with overactive sebaceous glands being relaxed to correspond with the delicacy of scalp skin.
What is in their intensive treatment?
An intensive treatment that consists of concentrated extracts that is rich in minerals to activate the contraction of hair follicles. It helps to maintaining the youth and firmness of scalp for exceptional suppleness.
| | |
| --- | --- |
| | Burdock, Arctium lappa, rich in fatty acids that stimulate blood flow to the scalp, nourishes and strengthens hair follicles, to promote healthy hair growth and improve the overall condition of hair. The silica and phytosterols in burdock help soothe irritated scalp conditions like dandruff, decrease breakage and repair hair while adding sheen, hydration & luster. It increases shine and gives body to limp hair. The mucilage in Burdock Root also helps add "slip" to your hair to make detangling easier. |
| | Chamomile, Matricaria recutita, is used to soothe the scalp and condition hair. It adds highlights to fair hair and sheen to dark hair and it conditions and softens. Chamomile tea makes a fantastic hair rinse for blonds, strengthens scalp tissues, and promotes healthy hair growth by correcting issues with scalp inflammation. |
| | Horsetail, Equisetum arvense, is nourishing and hydrating, stimulates blood vessels in the scalp and has been used for centuries as a hair growth herb. The silica in horsetail helps to keep hair strong and adds shine and luster to hair |
| | Lavender, Lavendula officinalis, has anti-inflammatory, anti-bacterial, anti fungal and anti-septic properties that help with hair loss, shedding and inflammatory scalp conditions. Its ability to balance oil production makes it a great hair care herb for all hair types. |
| | Nettle, Urtica dioica, stimulates the scalp, improves circulation, and helps promote promote fuller, more radiant hair. Nettles have a long-standing reputation for preventing hair loss and making the hair soft and shiny. Nettle, an excellent hair conditioner, is rich in minerals and plant hormones, is tonic and astringent and gives a healthy gloss to hair. Nettle is said to be a remedy for oily hair, dandruff, and hair shaft breakage. |
| | Sage, Salvia officinalis, rich in antioxidant, astringent, and antibacterial qualities, is a soothing hair tonic and a natural treatment for scalp dryness. Sage tea adds shine and depth to dark hair and helps darken graying hair. Sage will remove residual shampoo and conditioner that has built up on your hair to leave it shiny and soft. |
| | Witch Hazel, Hamamelis virginiana, leaves and bark are astringent and help deep clean greasy hair. |
Let me show case you their list of products that they have!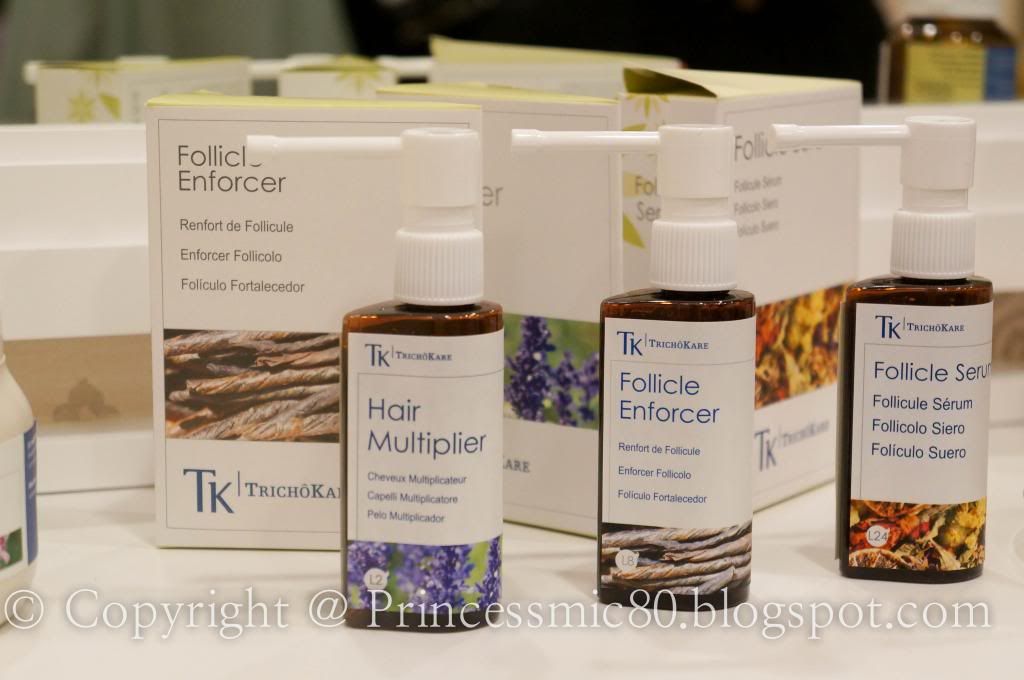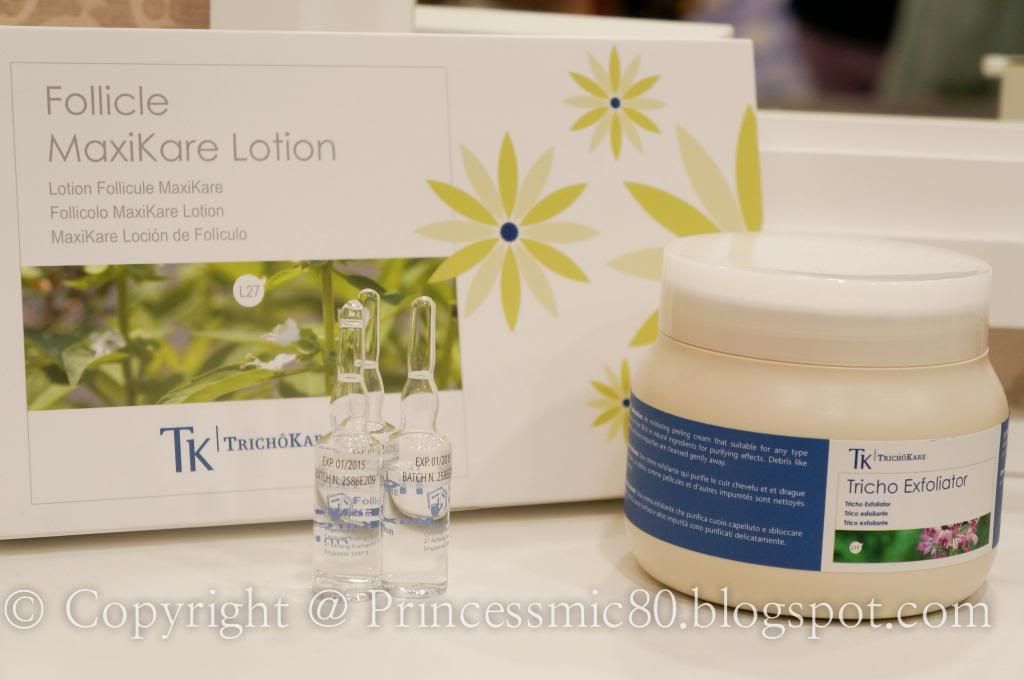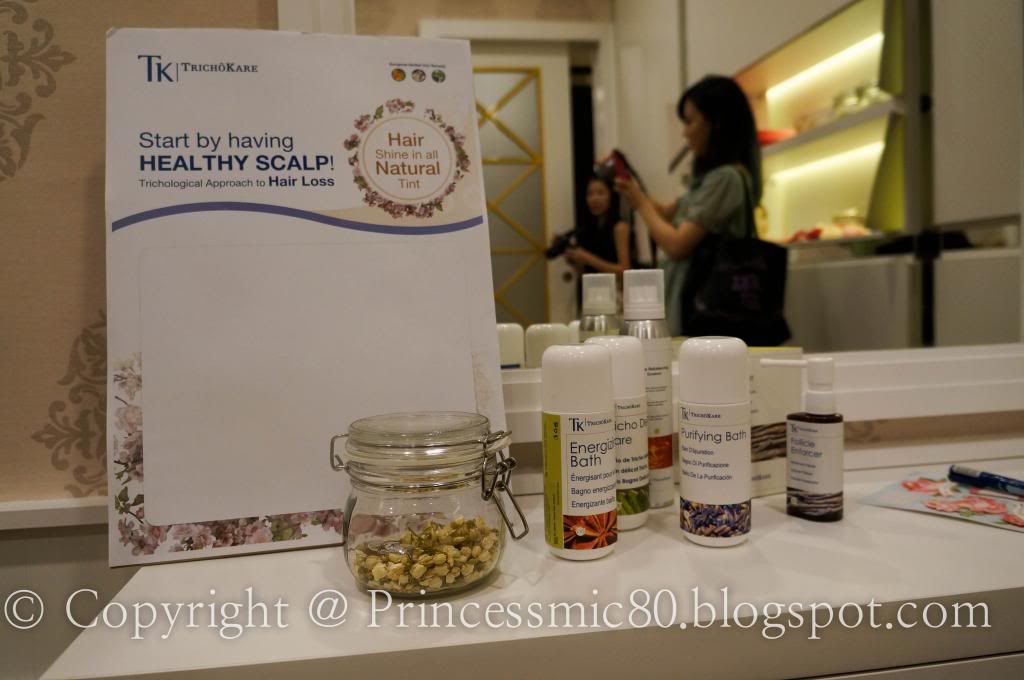 Enough said! so how do i feel after the treatment?
Seriously, i was quite sceptical on how 1 treatment can proved but i was wrong. Each of us are given a before and after analysis. After 1 treatment, the
microscopic analysis is done and it is shown that my hair
follicles
has less oil clogs and it looks much cleaner now.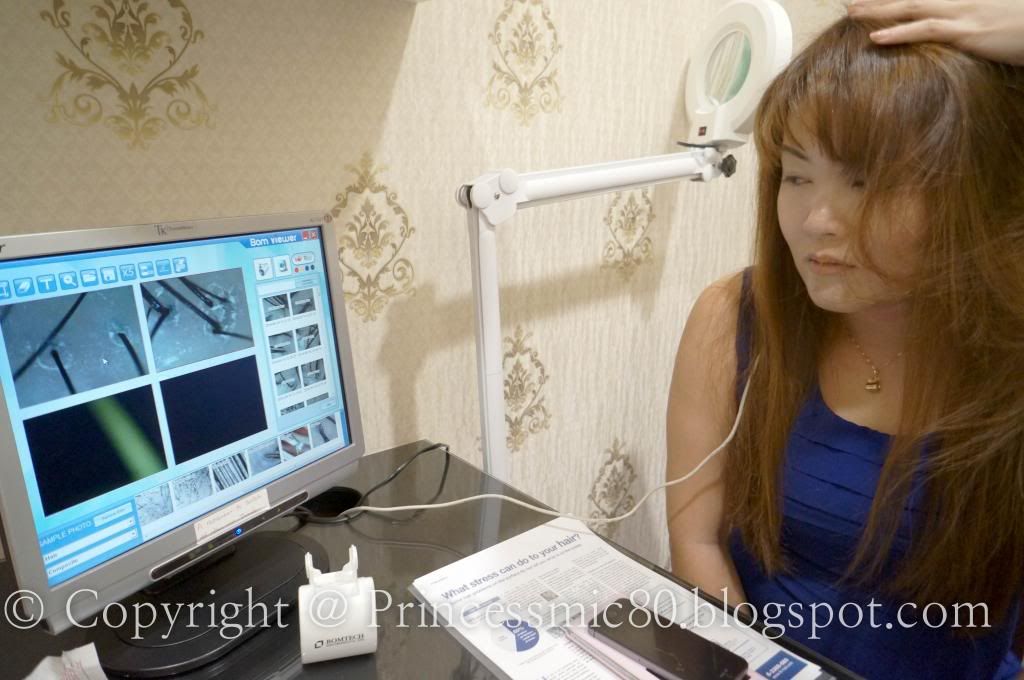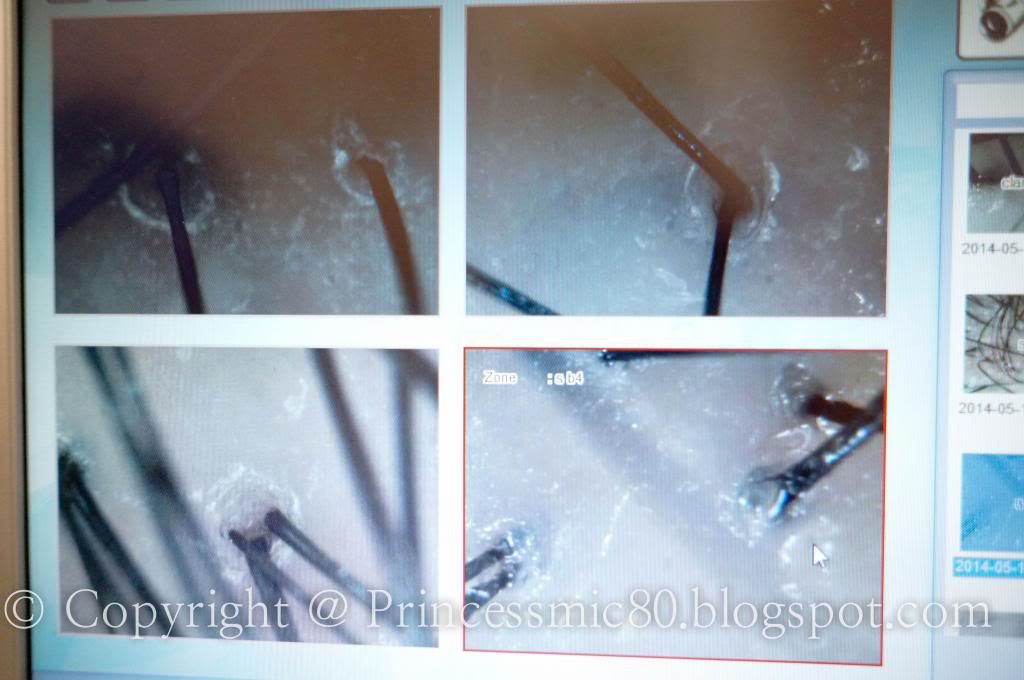 I feel lighter and more refreshing after the treatment.

Best of all, my hair still look good after a week writing this entry!

I cant help it but feel the smoothness of my hair each time i run through them! The therapist, Rose who attend to me is very friendly and give me alot of tips on how to take good care of my hair too. In fact, she also share with me what sort of hair cut will suits my "dumpling" face lolx. not to mention, the head massage is super goooooddd...i love it! it helps to relieve me from my headache that day! Overall experience, only one word to describe "Fantastic"!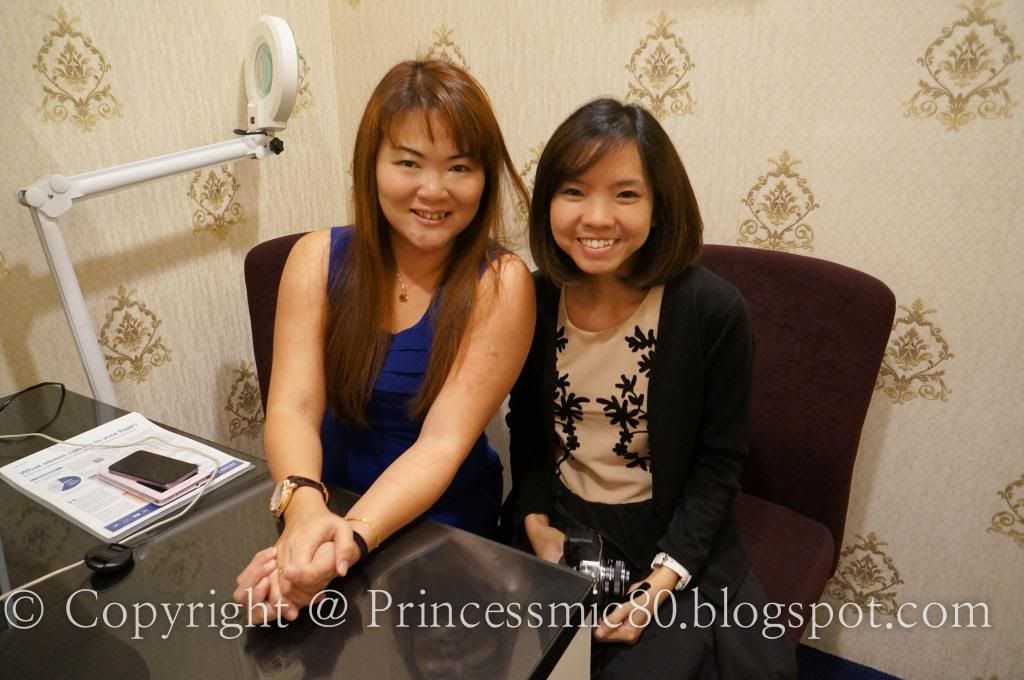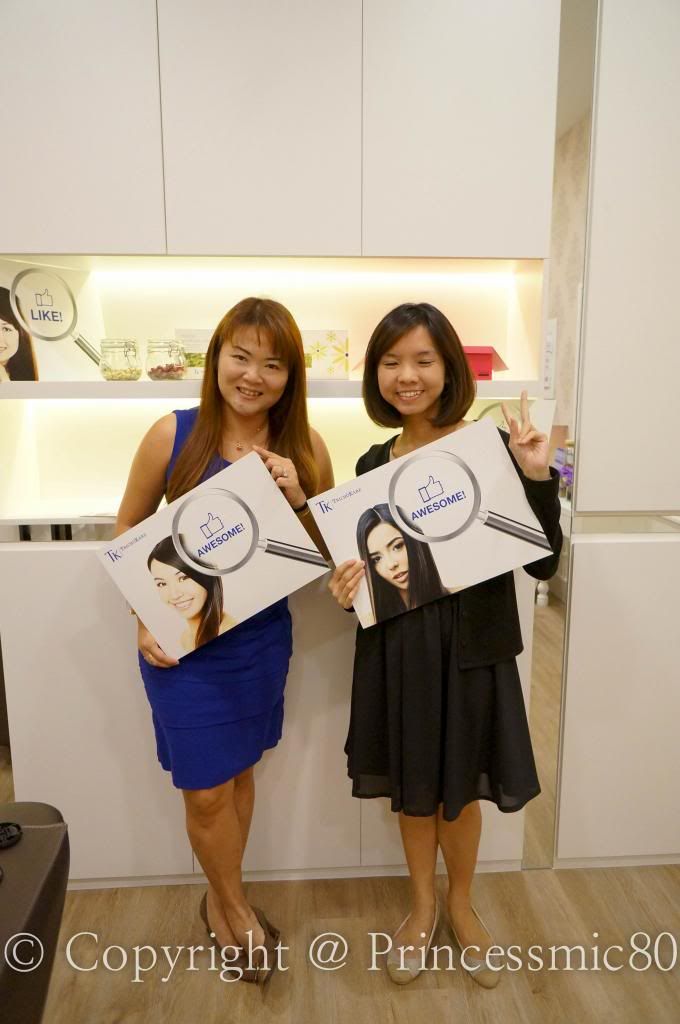 So when do you look for Trichokare?
If you answer "Yes" to any of the following symptoms or questions, it is likely that you will experience hair loss, premature thinning, balding, or scalp disorders in your future. It is important to consult a Trichologist. Early detection will always be the best defense for hair loss and scalp disorders.
• Do you have receding hair lines, thinning or balding ?
• Do you have greasy skin or scalp?
• Have you experienced excessive emotional stress?
• Do you suffer from acne-prone scalp?
• Are you presently, or have been on any diet?
• Do you have poor blood circulation?
• Have you recently given birth ?
• Is your scalp flaky, crusty, inflamed or itchy?
• Have you been experiencing hair shedding?
Do you have any of the following symptoms?
* Thinning edges
* Less hair on the head
* Thin spot or hair loss/bald spots
* Redness or inflammation on your scalp
* Burning or tingling sensations
* Pimples or scalp bumps
* Dark or black dots or spot on your scalp
* Short and long strands of hair in your comb or on the bathroom floor
* Tender scalp, pain or sensitivity when touched or pressed
If you have any concerns due to hair loss, let Trichokare help you.

TrichoKare is the first ISO 9001 certified trichological centre that provides customized European herbal hair remedy. Their therapy treatment consists of European herbs infusions, which are premium and natural. Some benefits includes:
* Increases the blood supply to the scalp that carries nutrients to the follicle
* Stimulates hair follicles to grow hair
* Slow down the progression of hair loss
* Increases your hair strength and elasticity
* Makes your hair fuller, shinier, softer, thicker
* Corrects scalp disorders
And what are you waiting for? Head on down to Trichokare if you are facing hair problems like me now! Lets go natural for our hair problems together!
For my readers, follow this link for exclusive deals
http://tk-hair.com/shirley/
Intensive Scalp Revitalizing Treatment at $59.99
Free Home Care Kit worth $49 + $200 Package Voucher
(Total Worth $587)
Outlets:
Velocity @ Novena Square #03-19 | The Clementi Mall #05-11 |
nex #02-24 | orchardgateway #02-12
Opening hours:
11am – 8pm (Mon to Fri, Sun) | 10am – 7pm (Sat)